2019 will be our 9th Annual Turkey Shuffle
Here's how it works -
You will have 5 hours. That's it. All riders will be required to pedal under their own power to designated locations throughout the Chattahoochee National Forest. Destinations are unknown until the morning of the race. Maps will be handed out about 5 minutes prior to start with destinations and their point value.
Riders will take a picture of themselves or their bike highlighting a trail feature of the specific location in order to earn points. For every point earned, each rider will receive a raffle ticket to put towards the prize or prizes of their choosing.
Each of this year's awesome prizes will be raffled off individually. The more tickets you acquire the better chance you have of winning a prize.
Tickets will NOT be available for purchase, you may only accumulate tickets by reaching as many locations as possible within the given time period.
Timeline of Events -
9:00am - 9:30am - Check-In / Registration in the OFFICE.

9:45am - Pre-Ride meeting OUTSIDE of The Barn to receive maps of the area and the designated locations which riders will seek for point values. The difficulty of ride determines the point value.

10:00am - The ride begins at 10:00am SHARP, leaving you with 5 hours to make it to checkpoints throughout the Cohuttas. By combining certain locations, bonuses will be awarded. All riders will have until 3:00pm to reach as many points as possible. For each minute you are late ½ point will be deducted from the riders score!

3:30pm - The Raffle will take place accompanied by some of Ginni's wonderful homemade chili (meat and veggie options available), cornbread and dessert.
**Lunch will be available as early as 2:00pm and will be offered until food runs out. We ask all participants (unless staying overnight) be off premises no later than 5:30pm.
Remember cabins and camping fill up fast this time of year so make your reservations well ahead of time.
Feel free to extend an invitation to all of your mountain biking friends and family for some great riding and holiday fun. We look forward to seeing you at the Turkey Shuffle!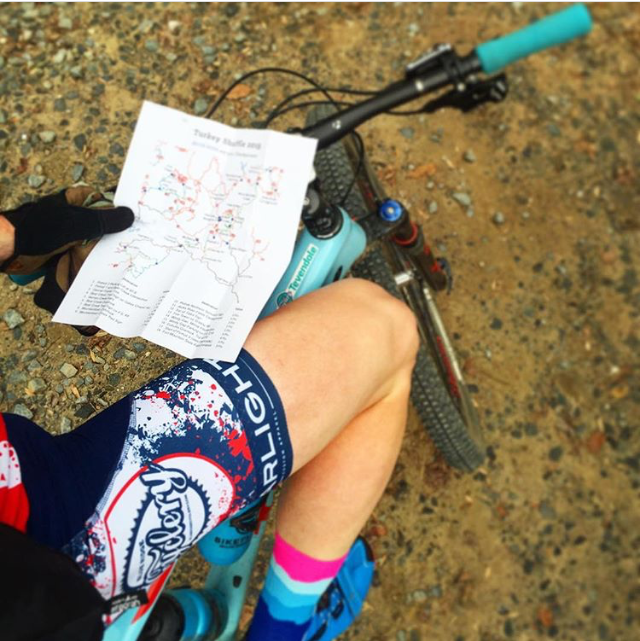 This is a Fundraiser for the North Georgia Mountain Bike Association (formerly known as the Ellijay Mountain Bike Association):
Registration -- Proceeds will be donated to our local chapter!
Adult - $45.00 -- includes parking, access to bathhouse facilities, showers, Wi-Fi, lunch (not optional) and donation.

Child - $35.00 -- includes parking, access to bathhouse facilities, showers, Wi-Fi, lunch (not optional) and donation.
RSVP at least 48 hours in advance to guarantee yourself food. Please help Ginni keep her sanity!