Intermediate - Advanced Clinic
This clinic is ideal for women who mountain bike regularly and want to hone in their skill set. Emphasis is on proper body position to suit the terrain, techniques to make single track riding safer and more efficient and increasing confidence. This clinic will go over the fundamentals and specific maneuvers like wheel lifts, cornering, and switchbacks. While the skill portion is more suited for all, the on trail riding portion requires fitness enough to ride in the mountains. If you have decent bike fitness, want to dial in and learn new skills and enjoy the company of other women who ride, this is a great opportunity for you. Shanna and Sue have years of experience teaching other women and continually seek to improve their skills as instructors so you can learn better. They are amazing riders themselves but have a relaxed, laid-back approach to shredding.
In summary, you should have a strong baseline fitness, willingness to learn and experiment all while having lots and lots of FUN!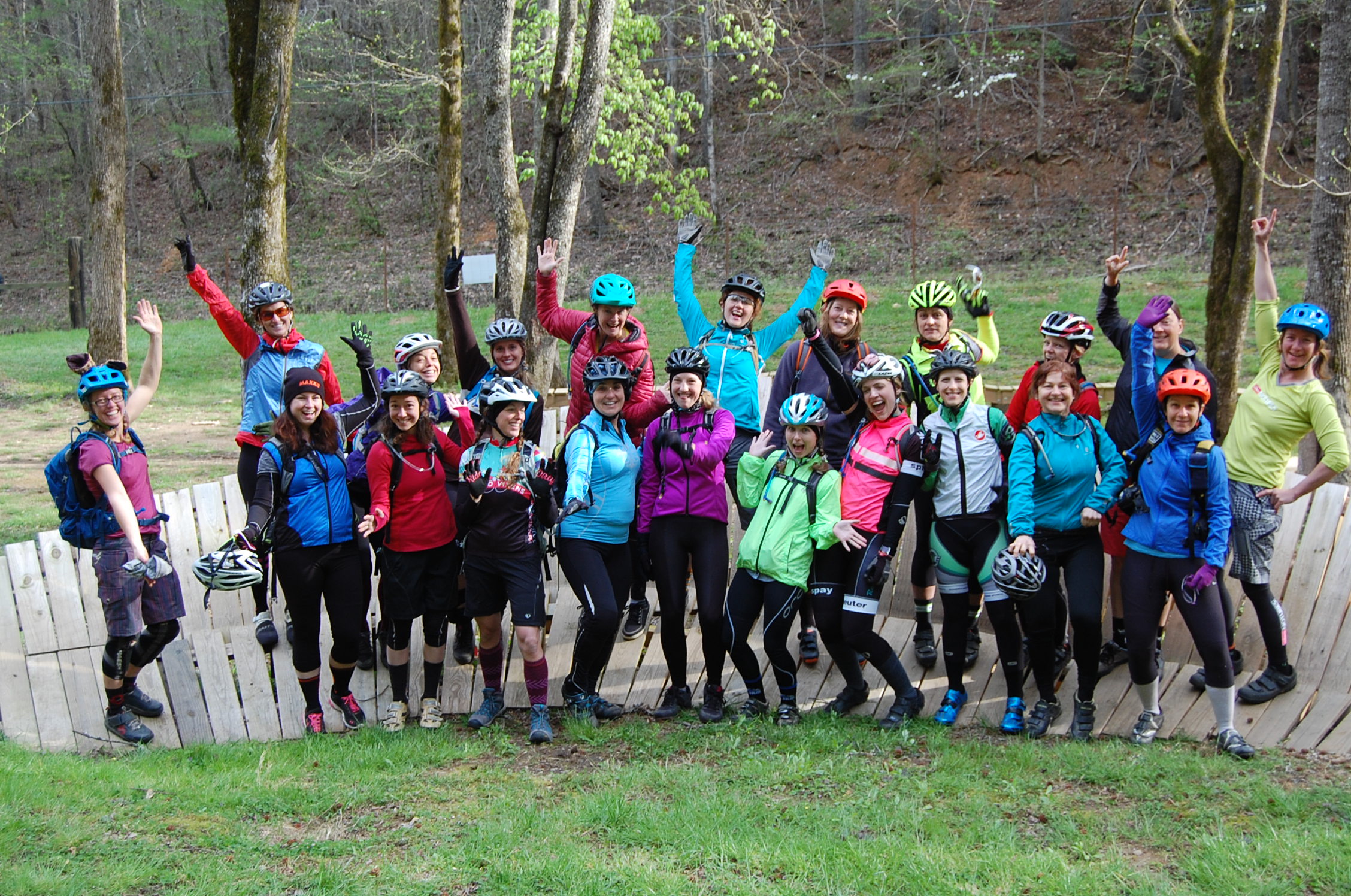 Head Instructor: Sue Haywood

Sue Haywood is an IMBA certified mountain bike skills instructor that specializes in mastery of East Coast riding conditions. Sue has honed her skills on the wet roots and big rocks in her home state of West Virginia. She enjoys teaching women and seeing her students gain skills, efficiency and confidence. In this clinic you will learn to ride in balance with good body position, effective braking techniques, lift your front wheel, ride over logs, conquer switchbacks and more!

"A great way to improve your riding is to take a clinic and ride with an experienced coach like myself. Taking 2-3 clinics and classes a year is the way to keep progressing in the sport of mountain biking. Whether you are a racer or not, the more you can ride in balance and efficiently makes riding more fun. I really like the set-up at Mulberry Gap for skills and drills practice and then practicing those skills on the trail. Being in the beautiful mountains of Georgia at Mulberry Gap Mountain Bike Get-A-Way, with friendly people and good food makes it really fun and easy to learn." - Sue Haywood
Assistant Instructor: Shanna Powell

Shanna loves riding bikes. She rides every bike she can every place she can, because each one teaches a different technique, style or maneuver... "but I am a singlespeeder at heart." Riding bikes has given her the opportunity and reason to travel to many new places and meet many new faces. She has been riding bikes since 2006 everywhere she can. Shanna rides bikes because bikes are fun and she loves sharing adventures on bikes with others. Some of the best experiences she has had in life have been with awesome bike people riding bikes in amazing places. Shanna loves riding new trails. "Riding has been such a beautiful part of my life." Shanna has recently stepped back into teaching… she has a degree in recreation and parks management and through that has spent time in a different life chapter as a kayak instructor. Shanna has recently acquired her PMBI Level 1 instructor certification and is very excited to share her love of riding through teaching. Shanna is also the owner of EndlessBikeCo.
Schedule
Friday
3:00 pm - 5:00 pm - Check-in
6:00 pm - Dinner
7:00 pm - Meet & Greet
Saturday
8:30 am - Breakfast
9:30 am - 12:30 pm Skills, Drills, Challenges
12:30 pm - Lunch
1:30 pm - Skills & Group Ride w/ Shuttle
6:00 pm - Dinner
Sunday
8:30 am - Breakfast
9:30 am - Skills Practice, Group Ride w/ Shuttle
1:30 pm - Lunch - Goodbyes
Pricing for Women's Clinic:
Clinic Only: $295 (instruction, lunch, shuttles, taxes, and insurance fees) /per person
Lodging & Meal plans available through Mulberry Gap
Includes 2 nights of lodging, 6 meals, instruction, shuttles, taxes, and fees.
Camping: $395
Shared Cabin: $475
Private Cabin: $575
Cancellation Policy
Cancellations received at least 7 days prior to the event will receive a full refund, less $50 administration fee.
Cancellations received from 3-6 days prior to the event will receive a 50% credit towards a future stay or clinic.
Cancellations received within 48 hours prior to the event, no-show or early departures will not receive a refund.