For Riders of All Abilities!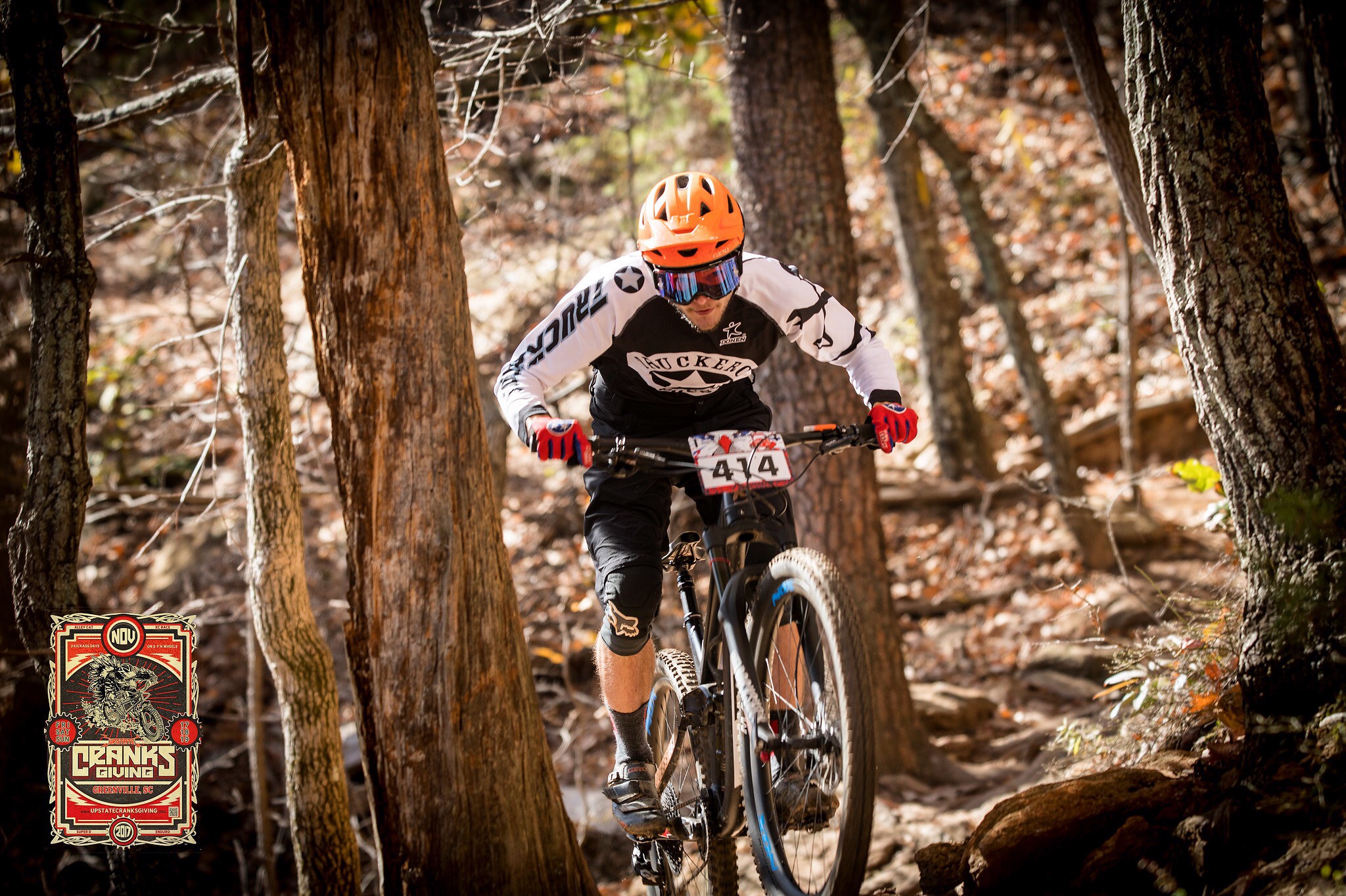 Lon has been riding anything with two wheels since he was a kid--from BMX, to moto hare scrambles, to mountain bikes. After a major mountain bike accident that damaged the vertebrae in his neck and blew out his knee, he realized the need to improve safety and control in his riding.
He has since invested himself in developing techniques to ride skillfully and safely without sacrificing any of the joy of the sport. He believes that good riding should be accomplished with technique, confidence, and skill--not just luck.
Lon has already helped more than 300 people in different parts of the US over the past 4 years become much better riders. He has studied with numerous instructors over the years and has applied their combined wisdom to his own riding and teaching. Lon's certification and continued professional development:
(2014) Invested in a day of private lessons from an instructor from Colorado. Emphasis was on technical climbing and descending, and on body positioning on all-mountain trails near Birmingham, Alabama.

(2015) Earned certification as a Professional Mountain Bike Instructor (IMBA level 2 equivalent). Required 3 days of training on cross country trails in Whistler, British Columbia.

(2016) Invested in 4 days of private lessons on how to teach and ride better. Emphasis was on jumps, drops, cornering, steep rock rolls, and other advanced maneuvers on intermediate and expert level downhill trails at Whistler Bike Park.

(2017) Invested in 4 days of learning how to teach and ride better. Emphasis was on cornering, bunny hops, manuals, wheelies, stoppies, and other advanced maneuvers on cross country trails near Brevard, North Carolina.

(2017) Earned Ninja Mountain Bike Performance Instructor's Certification. Emphasis was on high speed cornering, pre-turns, jumps, drops, steep transitions, and other maneuvers on cross country trails near Ellijay, Georgia.

(2017) Invested in 3 days of how to teach and ride better. Emphasis was on advanced jumps, advanced drops, and cornering on enduro trails near Boone, North Carolina.

(2018-9) Three private lessons with Neko Mulally, the 2018 National Downhill Champion. Neko also placed fourth in the world even after breaking a chain at the 2014 World Championship. Emphasis of lessons was on advanced drops, selective braking and bermed corners on some of the steepest descents in the US.

Each year Lon studies under at least one instructor/coach/rider in the industry who he believes will help him the most to become a better teacher and rider.
Cory Rimmer grew up in the area around Knoxville, TN and has been riding and racing bikes for nearly twelve years. His passion for riding started at an early age and over the years, has brought him an endless supply of great memories and lifelong friends.
After some notable success at the collegiate level ('12 Collegiate D2 Cyclocross National Champion, '15 D2 Cross Country, Short Track and Omnium National Champion), Cory turned his racing focus from XC and short track to longer, more technical events.
These days, you'll find Cory traveling around the country racing Enduro. In addition to racing and coaching for Singletrack Skills and Ninja MTB Performance, Cory is busy fostering young riders as the Head Fitness and Skills Coach for Knoxville's local NICA composite team. The team is made up of over forty kids, so needless to say, Cory has his hands full.
Cory is a PMBI and NICA certified coach passionate about helping riders who are looking for tips and tricks to take their riding to the next level. When not riding, Cory enjoys spending time with my wife Anna and his 2 year old daughter Waverley, who lucky for him, usually just wants to ride her bike.
Is this camp right for you?
Basic fitness level and basic bike control skills are required for learning the skills portion of this camp. We will spend most of our time near Mulberry Gap working on skills. There will be an optional trail ride away from Mulberry Gap on Saturday and Sunday. No new skills will be taught on these trail rides, so should you choose not to go on these trail rides, for whatever reason, you will not miss any new information. You would just miss applying the information that everyone has heard on those trails.
Even with the shuttles, these trail rides have proven to be too physically demanding for at least one person on many camps that we have led, so we have to change that. If you have not been riding regularly, for example, about 17 miles with 1500 feet of climbing per ride at least once a week, then you would have a better experience staying at Mulberry Gap and working on your skills on the trail there. These rides are too remote to do them "off the couch," and those who have and have failed end up not having a good time way out there; and the group who has been working towards being fit for the ride can't have as much fun waiting too long on someone. Bear Creek, Pinhoti 1 and 2, even with a shuttle, is 1700 feet of climbing and 14.5 miles of riding. We just want everyone to have fun!! If you have any questions, please contact Lon at FurtherYourRide@gmail.com.
Friday
3:00 - 5:30pm Check in

6:00pm - Dinner (optional, booked separately)

7:00pm - Free time, relax, settle in and get ready for the weekend!
Saturday
8:30am - Breakfast (optional, booked separately)

9:00am - Body Positioning, Terrain Awareness, Braking, Crashing, Shifting, Technical Climbing, Roll Down Lunge

12:30pm - Lunch (included in clinic fee)

1:30pm - Tripod, Cornering, Track Strand, Pedal Wheelie, Trail Ride

6:00pm - Dinner (optional, booked separately)
Sunday
8:30am - Breakfast (optional, booked separately)

9:00am - Manual, Bunny Hop, Nosepicks, Drops, Trail Ride

12:30pm - Lunch (included in clinic fee)
Ground Control 1 & 2, as described in the link below, will be covered in this camp:
https://www.singletrackskills.bike/camp-descriptions/
Additional information can also be found at: www.SingletrackSkills.Bike
Clinic ONLY Rate:
Includes clinic, 2 lunches, shuttles, taxes and fees.
Regular Pricing: $295 / per person
Clinic, Lodging & Meal Rates:
Cabin or Campsite Lodging, 6 meals, shuttles, taxes, and fees.
Private Cabin - fees vary based on cabin or campsite of choice (average $580)

Shared Bunk Cabin - fees vary based on cabin choice (average $535)

Camping - fees vary based on campsite choice (average $415)
Can't commit to the whole weekend? Consider a private session before or after these clinic dates! Lon's weekend/holiday rates apply. Click here to learn more! You can also email Lon at FurtherYourRide@gmail.com for more information.